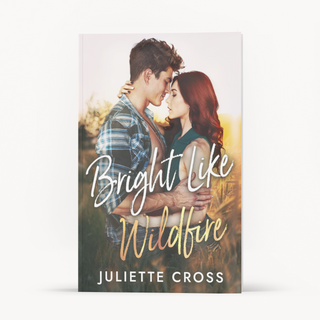 Bright Like Wildfire
book one
An Enemies-to-Lovers, Small-Town Romance
Bennett has no idea why Betty Mouton hates him.
Other than the time he accidentally hit her boobs with a glitter bomb in their community theater performance of "A Midsummer Night's Dream," he's been nothing but helpful and accommodating. But that notorious "incident" happened nine years ago. Time for the gorgeous redhead to get over it and admit to the real chemistry between them, not just the on-stage kind.
Betty is in trouble.
She may have gotten her dream role in a production by her favorite playwright, but there's a big problem. Her romantic lead is that cocky, annoyingly hot know-it-all Bennett Broussard. And when the fake touching and fake kissing start to feel way too real, Betty realizes one thing. She better act her heart out or finally admit that Bennett has stolen hers.
"This was such a delight to read. A small town, contemporary romance with a lot of heart, swoon, and humor."

★★★★★
Secrets at Sunset
Book two
A Forbidden Romance, Small-Town Novella
Reed Robicheaux is not prepared for his best friend's little sister to show up on his porch wanting a secret favor. A favor that could make her whole family hate him. But Reed could never deny Anna Hebert anything because of his own secret crush on her.
When Reed agrees to help her kickstart her dream career, Anna offers housekeeping help in exchange for his manual labor. But, she never knew cooking and cleaning would lead to Netflix-and-chill with her lifelong obsession. And when she makes a drunk confession that rocks his world, Reed knows it's finally time to make Anna his own.