Soulfire
book one
A Dragon Fantasy Romance
Tensions are rising in the Gladium Province. The boundary between humans and Morgons has begun to blur. While the human aristocracy strives to maintain distance between their daughters and the dragon-hybrid race, fate has other plans. As the daughter of the corporate king, Jessen Cade is duty-bound to honor her arranged marriage to a man she detests. Feeling trapped by family duty and a loveless future, she longs for more, straying to the Morgon side of the city. Lucius Nightwing is the eldest son of the powerful Morgon clan, and the greatest enemy of Jessen's father. When a bar-room brawl thrusts Jessen into his arms, his dragon roars to the surface, craving to sate his carnal hunger in the brown-eyed beauty. The beast in Lucius recognizes her as his own, even if the man refuses to admit the truth.
Windburn
Book two
A Dragon Fantasy Romance
No man can win her heart—until now…

In the Gladium Province, the boundaries between humans and Morgons, the dragon-hybrid race, continue to blur as a new generation surrenders to long-forbidden temptation…

Sorcha Linden does whatever she wants whenever she wants, and no one can stop her. Least of all a man. After all, they're good for only one thing—warming her bed. But then she meets Lorian Nightwing, brother of Lucius. Seductive and iron-willed, he is determined to melt her emotional defenses—and warm her rebellious heart.

The beast within Lorian longs to cage Sorcha and mark her as his own. Forever. Yet the man within also longs to protect her. When a stalker starts leaving Sorcha suggestive gifts with cryptic messages bearing an ancient blood cult symbol, Lorian's dragon side takes over. With her life at stake, Sorcha can no longer deny the love they share. But when evil tracks her into the night, will she be too late to claim it?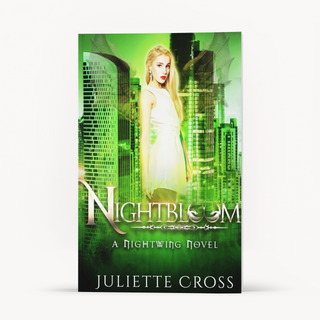 Nightbloom
book three
A Dragon Fantasy Romance 
The love between a human and a Morgon, the dragon-hybrid race, tempts fate once more…

All her life, Ella Barrow has allowed others to make her decisions. Forced to stifle her artistic talents and stay in a loveless relationship with Clayton Kerrington, the man her mother believes to be her perfect match, Ella's life may be safe—but it's not her own. Paxon Nightwing, on the other hand, is anything but the safe choice.

A charming and alluring Morgon, Paxon sees Ella for the woman she truly is. His bold confidence and protective nature ignites a passion she's never felt before. But a dark family tragedy forces their secrecy—until Clayton makes it impossible to hide their clandestine affair. Will Ella be strong enough to fight for herself at last? Or will she succumb once more and risk losing the only man she's ever loved?
"Hellooo, hot alpha dragons!... Fast, furious and full of tension, if this is just an intro to a larger series, we are in for an amazing journey and some hot dragons!"