Wolf Gone Wild
book one
A Steamy, Slow-burn Werewolf Romance
What's the worst thing that can happen to a werewolf?
Unable to shift for three months, Mateo Cruz knows all too well. His wolf has taken up residence in his head, taunting him night and day with vividly violent and carnal thoughts. Convinced he's cursed, he needs the help of a powerful witch before he literally goes insane.
Evie Savoie has always obeyed the house rules of her coven--no werewolves. They're known for being moody and volatile. So, when a distempered, dangerous werewolf strolls in the bar and almost strangles one of her late-night customers, she's ready to bounce him through the door. But the desperation in his eyes when he begs her to help him softens her heart and convinces her to bend the rules.
What Evie doesn't know is that Mateo's wolf has a mind of his own. And now that she's in his sights, he wants only one thing. Her.
"Finally some kickass new witches! Great blend of dramatic and comedic with lots of great characters hopefully setting up a long series."

★★★★★
Don't Hex & Drive
Book two
Opposites Attract Vampire Romance
Notoriously bad at peopling, Isadora Savoie spends most of her time in the greenhouse or at the local animal shelter, using her Conduit powers of growth and healing. Content to remain in the background of the Savoie sister shenanigans, she's reluctantly roped into the mystery of missing neighborhood girls.

Now, she's partnered with a flashy, flirty vampire to find them before it's too late. Devraj Kumar has seen and done it all. Three hundred years roaming the earth as a Stygorn—a legendary vampire warrior who operates in the shadows—has its perks. But ennui has set in. That is, until he has a run-in—literally—with an intriguing witch while on a new assignment in New Orleans.

Fascinated by her resistance to his charms, Devraj can't help but push her buttons in an effort to get to know the shy witch. Fortunately for him, she's been recruited by the Lord of Vampires to assist Devraj on the case. Between a Bollywood marathon, supernatural dating app, secret package, and sexy driving instruction, Isadora is in over her head. And Devraj? After just one taste, he's playing for keeps.
"Juliette Cross is dialed into the sweet spot of Paranormal Romance. Don't Hex and Drive perfectly combines all the elements of a fun and un-put-downable contemporary paranormal romance story: sweetness, silliness, sexy heat, and some mystery."

★★★★★
Witches Get Stitches
book three
A Steamy, Friends-to-lovers Werewolf Romance
Violet Savoie has a plan. A dream, rather. To open her own tattoo shop, which caters to supernaturals in need of permanent charms. As a powerful Seer, she has the potent magic to cast every kind of spell. Except the kind to give werewolves control over their beastly side. And her business partner Nico needs help in the worst kind of way.
Nico Cruz has a secret. A motive, rather. To subtly stalk and seduce Violet until she finally recognizes they are fated to be together. Ever since their heated encounter in Austin on New Year's Eve two years earlier, he's been dying to get his hands—and his tongue—back on her body. He knows a woman like Violet can't be courted in the usual way. Luckily, Nico has no scruples about misbehaving to get what he wants.
But when his former pack roams into town, and an old friend is far too interested in Violet, his focus shifts to the threat venturing into his territory. Nico may come across as the quiet, broody one, but the intruders are about to regret stepping foot in New Orleans.
And when Violet goes missing, no charm or spell can keep Nico's wolf at bay.
"Nico was a broody, soulful, musically gifted werewolf it's an edge of danger. Violet, the bohemian, very sassy, tattoo artist witch. Leave it to Juliette to make their relationship one heck of a sloooow burn!

*Fans self*"

★★★★★
Always Practice Safe Hex
book four
An Enemies to Lovers Witch Romance
There's a reason no one messes with a grim...
Livvy Savoie is a people person. Not only does she have the magical gift of persuasion, but her natural charisma charms everyone she meets. She hasn't met a person she didn't like. Until her annoyingly brilliant competitor walks through the door. No matter how hard she denies it, loathing isn't the only emotion she feels for him.
Grim reaper Gareth Blackwater is rarely, if ever, moved beyond his broody, stoic state. But the witch he's partnered with in the public relations contest is destroying his peace of mind. He's convinced that the flesh-melting attraction he feels for her is merely her witchy magic at work.
But forced proximity proves there is more than magic sparking between them. Livvy learns this enigmatic grim's abilities are beyond any supernatural she has ever known. And when Livvy becomes the obsessive target of a dangerous warlock, Gareth proves just how powerful he truly is. Because no one is going to hurt his Lavinia.
"Juliette keeps getting better. I love Livvy and Gareth! I think grims might be my new favorite monster. Alphas are my weakness and Gareth is alpha AF!"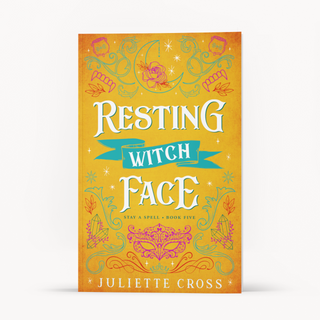 Resting Witch Face
book five
Second Chance Vampire Romance
Twelve years ago, Jules Savoie ended her relationship with the vampire overlord of New Orleans, Ruben Dubois. For good reasons. A woman in power must often make sacrifices to protect others. She knows the truth of it down to her aching heart.
When Ruben watches his best friend Devraj get married, a stinging realization hits him hard…he's done waiting. They say time heals all wounds. In this case, it merely sharpened the pain and made one fact crystal clear. Jules Savoie is his soulmate, and nothing would keep her from him. Not anymore.
Forced to work side by side to fight for the werewolf cause, they campaign together at covens from New Orleans to London. The reignited spark burns hotter than ever before. But when a power-hungry vampire sets his predatory sights on Jules, will their love be strong enough against black magic? Or will he lose her again? And this time, maybe…for good.
"I'm a happy, content, and cheery woman after finishing Resting Witch Face. All dopamined up from that swoon and heartmelting romance Juliette loves to deliver. And she nails it every time!"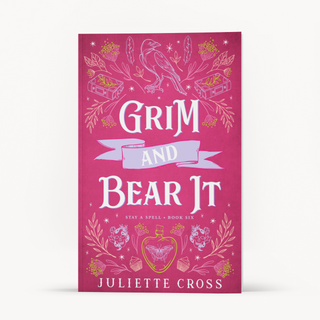 Grim & Bear It
book six | out now
A Steamy, Grumpy/Sunshine Romance
Not even Death can take her from him.
Clara Savoie is so confused. She is absolutely positive that Henry Blackwater is practically in love with her. But for some strange reason, he won't even ask her on a single date. Time to take matters into her own hands.
When Clara shows up on his doorstep with an unusual invitation, tempting cupcakes, and naughty innuendo, Henry has no choice but to say yes. Now he's the newest member of the High Tea Romance Book Club. While Clara learns the haunting secrets of her broody grim, Henry shows her what commitment from a necromancer truly means.
But when his father is arrested for murder, Henry is dragged back into the nightmare he's been avoiding all his life. When he steps back into his father's world, he isn't just endangering himself but also the bright, beautiful woman he can no longer live without.
But he just might have to.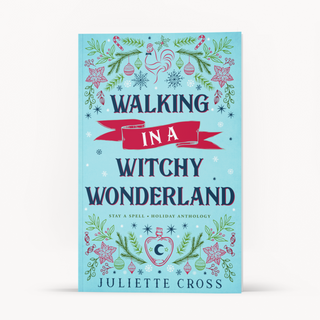 Walking in a Witchy Wonderland
a holiday anthology
Getting hexy for the holidays!
Mischief and mayhem dominate the holiday season for the Savoie sisters of New Orleans. Five sexy stories set in the STAY A SPELL world you don't want to miss.
"I enjoyed every second of it! It was sweet, flirty, sexy, emotional and full of all kinds of holiday vibes."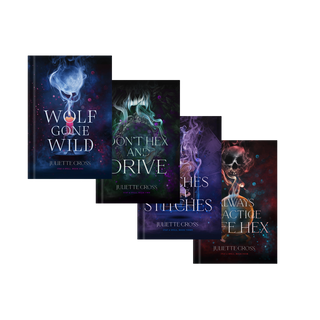 Special Edition Hardcovers
Special edition hardcovers, character art, and vellum overlays for the beloved, witchy STAY A SPELL series by Juliette Cross. Available through Kickstarter.